In the Studio
We are currently in the studio with the amazing Mike Bailey working on our new EP. You should be very excited. In the meantime, check out our current EP, Country Roots. Click here to check it out!
Keys For Kids Benefit Concert
Four Roses Bourbon Presents Billy Brown… Keys for Kids Benefit for Cincinnati Children's Hospital Medical Center at The Thompson House in Newport KY on Feb 28 at 8pm! Tickets are $15 each and can be purchased at the Thompson House or online at www.thompsonhousenewport.com. There is limited seating for this event so make sure you purchase your tickets as soon as possible! Help me support Cincinnati Children's Hospital!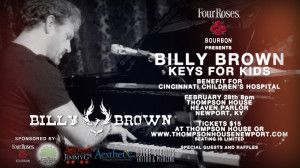 Say Something
Check out the video for our cover of "Say Something" by A Great Big World & Christina Aguillera, featuring Billy's daughter Samantha on vocals.